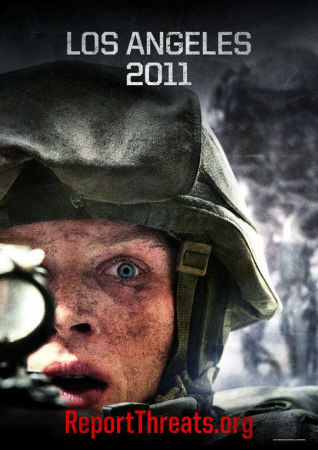 Battle: Los Angeles
(also known as
World Invasion: Battle LA
outside the U.S.) is an upcoming 2011
science fiction film
directed by
Jonathan Liebesman
, and starring
Aaron Eckhart
,
Michelle Rodriguez
,
Michael Pena
,
Ne-Yo
, and
Bridget Moynahan
. The film's premise is inspired by the 1942
Battle of Los Angeles
incident (sometimes called the "Great Los Angeles Air Raid of 1942") in which a presumed enemy attack, later deemed a "false alarm," led to an hour-long
anti-aircraft artillery
bombardment over the city of
Los Angeles
. The film is set in modern day Los Angeles and follows a
platoon
of
Marines
and
Airmen
during a global
alien invasion
.
CAST
This film just keeps on niggling me. Every now and then I get so excited about a film I cant stop thinking about it. I watch any and all trailers I can find, download wallpapers for it. Subscribe to RSS feed. I talk about it with the family all the time. This film Battle: Los Angeles is one of them. Its not out til March so its going to be a long couple of month sleeplessly waiting.
In my opinion its going to be one of those films you didnt see coming and then BOOM smashes box office targets. It has a great cast Michelle Rodriguez, Aaron Eckhart and Michael Pena to name a few.
So up my street that I almost live in it!!
So join me in the love for all things B:LA its going to be AWESOME!!
(obviously I am going to look very silly if it is plop!)